Argentinians are proud of a few things: their soccer, their meat and... their wine. The biggest and most famous region is Mendoza. But we decided to visit the second best - Cafayate. Wine here has a long history and was brought here by the Spaniards and precisely speaking by a priest in XVI century. Obviously it was absolutely essential for religious reasons...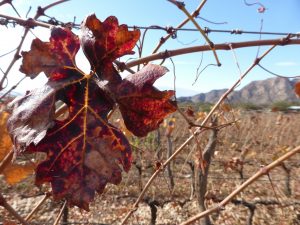 The red grapes which are cultivated here nowadays like Malbec or Tannat were brought from France in the XIX century. But the biggest pride is the worldwide known and renowned- torrontes. This white grape came here from Spain in the late XIX century. All of the grapes adapted themselves very well, creating a specific variation typical for the region because of it's weather. Cafayate is situated 1700 m above sea level and it only rains here around 80-180 mm per year and when it doesn't the sky is perfectly clear and the sun can be unbearable. That I'm not going to mention the difference in temperature between day and night...huge. All of that creates a specific climate where grapes ripe fast and are safe from getting sick, which produces a very intense, fruity wine. The whole city and surroundings are busy with cultivating grapes and most of them do it the same way. From the fruit they make grape juice which later on is fermented with grapes leftovers for a long time (red wine) or very shortly (rose) or even without (white wine). Later on this wine can be already sold as a young wine. But for a better quality wine, especially the red one, it can be also aged in wooden barrels from French or American oak, that's how reserva and gran reserva are produced. The difference between them is the time, to call red wine a reserva it needs to be aged in a barrel for a period of 12 months and to call it a gran reserva it's 24 months. For white and rose wine it's 6 and 12 months. The rules here mentioned are only valid for Argentinian wine. After ageing in barrels the wine is aged in a bottle for extra aroma. It's essential that the bottle is positioned horizontally so that the liquid is always in contact with the cork as it allows gas interchange trough the pores. If the cork dries out it lets oxigen in which would produce an acid and bye bye wine! Additionally the quality of wine depends also on the quality of juice so for the best wine first pressed juice is used. Many of the wineries here have generally 2 or 3 brands to separate clearly the finest from the economic option. If gran reserva is still not good enough there is still the option of a blend, so a mix of the best wine of the year so it can be a mix of malbec, merlot and tannat for example. Generally a blend seems not to be produced every year as it's hard to have the highest quality from the 3 every year...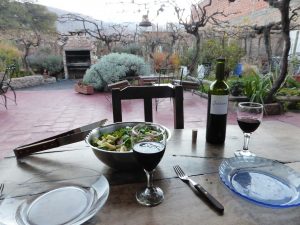 Certainly we didn't come to Cafayate only to hear about wine but also to taste it:) and there are plenty of bidegas in and outside of this beautiful town. Some are nicely situated in fields of grape plants like Finca Quara or Piatelli and some unfortunately are trapped in the centre with their plants far from the sight of a potential client (Bodega Nanni, Bodega Salvador Figueroa). Most of them offer a tasting and tour for which you mostly have to pay a small amount of money. But there was only one which permitted tasting almost everything (total of 12 wines)- bodega Piatelli. Their were obviously our favourites with Finca Quara where we tasted two wines free of charge. Both of them had good wine and both had something even more important love, passion and openness to share their joy and wine:)
If someone would like to go to Cafayate more details about the wineries we visited below:
1. Bodega Piatelli- beautifully situated on a hill in the heart of their fields, they offer two tasting option: one 80 pesos 7 wines from their reserva wines which includes their really good malbec-tannat, second option is their finest for 150 pesos - 5 wines, 3 gran reserva, 1 reserva torrontes and 1 delicious blend of Malbec, Cabernet Sauvignon and Merlot. Their tour is also very nice and informative
2. Finca Quara- just outside of Cafayate, in field of their "gold". It's a quite big and old company with staff that is really passionate about their produce. Tasting of two wines and tour is free if charge
3. Finca las Nubes or Bodega L. Mounier- it offers nice walk from Cafayate as well as a rewarding view when reached, unfortunately we didn't love their wine. But at least it was cheap 15 pesos tasting and tour (3 wines from which their rose)
4. Bodega Salvador Figueroa- tiny is truely an understatement, their red aged wine is very good but their torrontes is rather avarage. Tasting and tour 10 pesos (two wines)
5. Bodega Nanni- no soul or passion, tour and tasting in a speed of a lightning which obviously is not enjoyable. Tasting and "running" tour 30 pesos (4 wines).
6. El Esteco- beautiful building which we immediately forgot about as soon as we came into contact with their unfriendly staff. Tour and tasting of 2 wines 60 pesos.