After many tiring hours in the bus we finally reached Salta, a city magnificently trapped between mountain peaks in far north-west Argentina. Salta turned out to be our favorite city in Argentina due to well kept colonial architecture, nice atmosphere and most of all the feeling of safety. And if that wasn't all it also had everything that we wanted (except for an exchange office but who would need one when there are so many people changing precious dollars illegally). After a few lazy days in Salta we decided to explore the region dominated by splendid, dry, colorful valleys. And there was no better place to enjoy colors than Cafayate. This small town situated south from Salta was one of our favorites. Amazing wine which is produced here was our guilty pleasure difficult to resist and leave behind, and so were the valleys in the surrounding. Intensively pink, red and green colors created through many years by different minerals and fossils were unbelievable. And so is the origin of the valley which was created by movements of the tectonic plates. Quebrada de las Conchas (the name of the valley) has many interesting points like El Anfiteatro where many local concerts are organised due to acoustics of the place and it's undeniable beauty or Garganta del Diablo (Devil's Throat) where we could climb a bit and enjoy the red rock formation in a more vertical way:)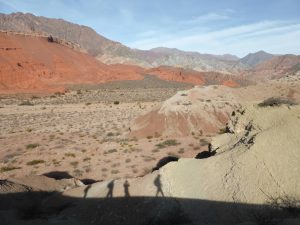 From Cafayate we decided to visit Las Yungas which is a diverse forest stretching from Argentina through Bolivia to Peru. On the Argentinian side it's rather remote. To reach our hostel (Aldea Luna) we took a bus for 1.5 h and than walked for another hour through the mountains, rivers and generally everything that makes a good work out and makes you sweet. Obviously in such a place there is no internet or electricity or any another comfort standard in Europe. Aldea Luna is run by a nice family and it's a private natural reserve. Over there we tried what I would call paid volunteering so we were helping a bit in the garden and house and paying for our stay like in a hostel. Unfortunately it turned out to be a bit of a disappointing experience just because there was no feeling of a community for us and it felt rather weird to pay and work a bit. It felt that it was more about our money than our effort and work so in final end we decided to leave after a week which was way shorter than we planned. But even though that week was enough to meet fun people from different parts of the world and even one polish guy, Jacek who is currently travelling around South America just like us. We expect that he is freezing in a tent and we are almost freezing in hostels 🙂
After Las Yungas we decided that we would go up to eventually reach Bolivia instead of going down and to Chile. We just felt that we wanted something totally new, less European and maybe more chaotic and adventurous:)Bolivia seemed to fit in our criteria.
Going further north we visited a few villages closer and closer to Bolivia like Tilcara, Purmamarca and Humahuaca all of which had amazing valleys and mountains of 7 (Purmamarca), 14 (Hornocal, Humahuaca) colors. But more importantly the people that we were seeing were changing along the way, replacing European features for more indigenous ones, which made us more and more excited for the new, Bolivia.