Our budget from Singapore is, by far, the most we spent in a country per day. For low budget lovers: it might be tricky to enjoy your time on budget especially if staying in an Airbnb, hostel or hotel. On the other side if you manage to volunteer or stay at someone's house Singapore will turn out to be actually pretty cheap.
Over 7 days we spent 821 euro for the both of us. That gives us around 59 euros per person per day. I have to mention that it's a budget packed with tickets, everyday exploring, not much cooking and a bit of a splurge when it comes to accommodation. Let's go into details.
Where did we travel?
We mostly stayed in the center of Singapore, we made sure our Airbnb was close enough to walk to most of the interesting spots. Except for that we went a bit outside of the center to visit the Chinese Gardens and the Joo Chiat Peranakan Houses.
How did we travel?
We mostly walked. Thankfully that was possible since our apartment was pretty centrally located. Honestly the highlights in Singapore are not far from each other.
The 32 euros mentioned in transportation include two uber rides to the spots that were further and not so easily accessible. The rest we spent on metro.
Where did we stay?
Accommodation was the biggest part of our budget especially since we decided to splurge a bit. We didn't want to stay somewhere far away and travel to the center for a long time. We decided that since we were coming only for a week we would treat ourselves. We stayed in a nice room in an Airbnb apartment in a very nice art-deco neighborhood. The room itself was really stylish, cosy and with so needed airco. The apartment less so… It was a world apart: hot, dirty, not really well maintained. It's immediately obvious why we only saw the pictures of the room on Airbnb. Anyway we were satisfied. That luxury cost us 462 euros for 7 nights.
TIP! If you want to stay somewhere nice but reasonably priced the only option is an airbnb or  hotel rooms without windows… I saw plenty of those on booking.com and honestly it took me a while to notice that they didn't have a window. The pictures almost fooled me…
When looking for an airbnb make sure you check the location as many cheaper spots will be over the border already in Malaysia or really far from the center.
What did we eat?
We mostly ate local food in omnipresent food markets and food courts. Nothing extravagant but pretty good and for a reasonable price. We chose between thai curries, hainese chicken and any other goodies that they had to offer. Few times we even scored really cheap coffee or tea to accompany our meals. On average we spent 13-20 SGD (around 8-13 euro) per time for both of us. In total we paid 94 euros on eating out.
Everything we spent on ingredients for our lunches and breakfasts, which we prepared at our Airbnb, we included in the food section. Whole 97 euros. This one also contains many liters of water that we had to buy during the running around Singapore. I mention it because water was surprisingly expensive especially considering that in such a climate we drunk insane amounts of it. We always tried to look for a food court where water was cheaper than at any convenience store.
How expensive are museums, tours etc?
Good news is that there is plenty to see for free. There is no entrance fee to see the Gardens by the Bay, stunning shophouses' facades or the Botanical Gardens.
That said there are quite few unmissable spots that cost a lot. National Gallery entrance depends on the exhibition and if you want to see just one or all of them. We paid 60 SGD for us both (around 38 euros). On the bright side you can explore the building itself and its amazing terrace for free which we didn't know.
For both conservatories in Gardens by the Bay (since we couldn't buy just one) we painfully said goodbye to 56 SGD (around 35 euros).
All in all we spent 107 euros on entrance fees.
Where did the rest of our money go?
In the 29 euros in miscellaneous and equipment we included printing boarding passes and contact lenses that we bought for JD.
Money- saving tips and tricks
Pay attention where your hotel/ hostel/ Airbnb is. You really don't want to stay in Malaysia instead of Singapore! Try to stay centrally to limit the transportation costs.
Check out your credit card deals! For paying with Mastercard we got a free ticket to the OCBC Skywalk.
Eat locally! Food at local food courts and food markets is really affordable, not to mention the coffee. It's a huge difference compared to even a mediocre restaurant.
Take as much water as possible from your accommodation. If you really need to buy more, try local food courts rather than convenience stores.
Try to volunteer! Accommodation is pretty pricey so try to volunteer to limit the costs. Not to mention the benefits of submerging in the local culture.
Enjoy the free attractions. Many spots in Singapore are free of charge. You can see the whole building of the National Gallery including the terrace for free (except for the exhibitions obviously), same with Gardens by the Bay, light show on Supertrees or Marina Bay Sands Mall. Even the Botanical Garden is free. So if you're staying for a short period of time and you are on a tight budget than maybe think about exploring the free options first.
Exchange rate used: 1 Euro = 1.6 SGD
Japan can be described with many words but cheap is not one of them. Transportation, accommodation, food…practically everything is pricey. No wonder it was our biggest budget fear. We prepared ourselves mentally to spend just under 100 euro a day for us both. Sounds like a lot but believe me, that's low budget.
Surprisingly we ended up spending "just" over 7000 euro in 89 days. So that makes 40 euros per day per person.
So let's break it down. Where did all the money go?
Where did we travel?
We visited many cities like Kyoto, Tokyo, Osaka, Hiroshima, Nagoya and even Fukuoka in the south. We also explored a lot of the countryside in the Gifu prefecture, Iya Valley and surroundings of the big cities. Unfortunately we didn't get to go all the way north but hopefully that will still come.
How did we travel?
We didn't want to spend much on transportation so we used local trains, buses and ferries. So no bullet train for us.
On transportation we spend a massive part of our budget (1597 euro). Short distance buses weren't huge budget breakers. For example a trip from Kyoto to Sanzenin (1hr) cost 550 yen (so around 4 euro each). Buses on mountainous roads were a completely different story. The steeper the mountain, the more expensive it got. To get from Hakone village to the lake nearby we paid 820 yen each (almost 7 euro) for maybe around 40 min ride. In Iya Valley it got even more expensive.
For long distance travels we sticked to the buses especially to Willer Express, they offered a lot of direct connections for good prices. The journey with them from Kyoto to Fukuoka cost us 5900 yen (around 47 euro). It was a very comfy, overnight bus.
For short journeys between the cities or day trips we used local trains. For example to go from Nagoya to Nabana No Sato garden we paid 400 yen each (around 3 euro)
Where did we stay?
The most economic accommodation turned out to be aribnb so we stayed a lot in small studios with private kitchen, bathroom and all the Japanese crazy commodities of life. In Hiroshima we got a lovely studio with bikes, super-fast wifi and even pocket wifi that we could take with us. All that for only 33 dollars a night. Most of our Airbnb studios were really great value for money, pretty and in range of 30-40 dollars. It's really hard to believe but they were way cheaper than dorms or guesthouses.
In more rural areas where there was no studio to rent we had to go for hostels. In Hakone we slept in a double capsula for 10400 yen per night (around 83 euro), by far our most expensive accommodation. In Iya valley we stayed in a charming, traditional double room with tatami floor and futon for almost 70 euro per night for us both.
We also spend 2 weeks volunteering in a guesthouse, south of Nagoya where we stayed for free. Except for that we visited a friend and stayed at her grandma's house for a few days in Osaka. Those saved us a lot of yen… that probably went for food 🙂
In total we stayed 50 nights in Airbnb studios, 18 nights in a variety of shared accommodations, mostly capsula style and the rest in "free" accommodations volunteering or visiting. In total we paid 2558 euro on accommodation.
What did we eat?
We fell in love with Japanese food and its variety. We ate a lot of seaweed, sushi, sashimi and a variety of veg. Since most of the time we had a kitchen, we cooked a lot. But we also ate out to try authentic local cuisine. We went to mid-range restaurants as well as markets, bars and very local ramen micro-restaurants. During volunteering and visiting we enjoyed a lot of Japanese goodies cooked by our hosts.
The only drawback were ridiculous prices of fruit which forced us to limit ourselves to bananas and kiwis…
Overall we spent 2227 euro out of which 473 euro went on eating out and the rest for grocery shopping or convenient store sushi.
How expensive are museums, tours etc?
On tourism we spend 296 euros and that includes entries to castles, museums, gardens and sake tastings.
Most castles cost around 500 yen (around 4 euro). The most expensive ticket (2300 yen so around 18 euro each) was Nabana No Sato, amazing gardens and a bit of a theme park in one.
Where did the rest of our money go?
273 euro in the equipment section of our budget went for clothes that we bought in Japan. We treated ourselves with some amazing socks, t-shirts and replacement for stuff that was worn down. I also bought some Japanese cloth that can be folded to a very nice purse and that according to Jandirk is an essential thing to have and therefore belongs to equipment.
In 98 euro from miscellaneous we included postcards, chopsticks and small souvenirs we bought for ourselves as well as luggage storage and small expenses that didn't fit in any other category.
Our tips to save money in Japan
Stay in Airbnbs ! ! ! Huge budget saver! I know Airbnb seems to be "the more pricey" option but in Japan it's really the cheapest that there is. It requires a bit of planning in advance, the best places fly out of the window pretty fast. It's also better for stays longer than 4 days, just because of the cleaning fee and Airbnb fee which then spreads nicely without hurting your sight and account. Many of the properties have pretty great discounts for stays above 7 nights. If your schedule is flexible, you want to stay longer in a place and you want great value for your money, Airbnb is the way to go!


Consider volunteering! Japan is not a country that you can understand over a day or two. It's a long, never-ending process and the best way to do it is to volunteer. You get closer to the people that live there, you can ask them questions and see their lifestyle. Not to mention that you can help them! For opportunities in guesthouses, farms and yoga centers go to Workaway.
Go to the tourist information. Except for Tokyo we met nothing but kindness and a sea of help in the tourist information. Those people are magicians, they know everything and what they don't know, they will find out for you. They can book you a ticket, find a bus, inform you about millions of discounts and save you a lot of money. Japan has a lot of special tickets and offers for foreign travelers but they are pretty complicated so you really need someone to clear all of them up for you and fish out what could work for you.
Use million transportation discounts. They vary per region and per city. Tokyo has metro cards valid for 1 or multiple days and the price changes depending on your home station. In the Kansai region you have a special ticket to see the whole area of Osaka, Kyoto and Nara. Some tickets include entrance to castles or public baths. With multiple day tickets sometimes they need to be used for consecutive days but sometimes you can choose the days and even use the ticket together with a few other people. We even came across tickets that you can only buy when you're still in your own country and pick them up on the spot. It's a pretty confusing and twisted system. Over time we realized the discounts were not meant for long term, slow travelers. They require a bit of a pace and tight schedule to get the value out.


Take Willer Express! This bus company offers the cheapest buses and plenty of different connections. They also have a loyalty program, you save points every time you travel with them and then you can use them as discount on your next trip. Their webpage is in English and buying tickets online is super easy. You don't even have to print them!
Take a look at the Japan Guide. It's an amazing guide book for culture and sights in Japan but they also give you all the transportation info. For each destination they show the cheapest, the fastest and the easiest route. Be prepared though, it's almost never 3 in 1.

P.S. Exchange rate used for the overall budget 1 EURO = 119 YEN
For those who expect Oman to be cheap… You can stop reading right now. Oman is very much a destination completely off the beaten track especially for backpacking tourists. There is almost no infrastructure like hostels or cheap guesthouses. The buses in between the cities are also a rare sight so the best option is to rent a car. To crazy ones that would like to hitchhike and wait for those precious rides in the boring, desert sun… good luck 🙂
In Oman we miraculously spend only 933 euros over 12 days. So that makes almost 39 euros per day per person.
So let´s explain how it turned out so "cheap" 🙂
Where did we go?
Our journey started in Muscat, later on we continued along the coast passing villages and going further and further south to Sur and Al Hadd where there is a beach known for being a turtle nesting area. From the coast we went camping in the desert and then back to civilization in the old town of Nizwa. From there we went to see the mountains and valleys on our way back to the capital.
How did we travel?
In the capital we traveled by bus which wasn't too expensive (1 OMR for us both for a ride, around 2.5 euro). For the rest of our route we rented a car. Unfortunately travelling by bus was just not an option. Although buses between the main cities do exist, they are not very frequent and to get to the villages we would have to try hitchhiking… And renting a car didn't turn out to be so expensive. We managed to get one for 172 euro for 7 days. I don't have to tell anyone that as one of the countries rich in oil, petrol was not a deal breaker in our budget (on petrol we spend 15.3 OMR so around 37 euro).
On buses, car rental and petrol we spend a total of 238 euros.
Where did we stay?
In Muscat we stayed in possibly the only hostel in the country and it's listed on Airbnb. We didn't find it there. The owner of the hostel was a friend of our friend and he offered us staying there for free. Idrees was just such an amazing host, he really made us feel at home and helped us with everything. He also explained that hostels are not really welcomed in the country since backpackers and cheap travelling is not really desired. Surprisingly camping is no problem. So that's what we did for a few nights. To be clear there are no campsites so also no toilets, showers and commodities like that. Just nature…
Our total of 124 euro for accommodation we spend for 3 nights in Nizwa in an Airbnb. For that money we got a really nice room with private bathroom and only a 10 minutes ride from the historical town of Nizwa.
What did we eat?
On food and eating out we spent a combined 262 euros. The 118 euro we spend on eating out was mainly fast food and coffee to use internet. Majority of the times we bought food in the supermarket and cooked ourselves also while camping.
How expensive are museums, tours etc?
On tourism we spend 20 euros for entrances to some forts and the Royal Opera House in Muscat. From what we researched online, tours are very expensive. For example 2 days (1 night camping) tour to snorkel was 85 OMR so around 200 euro… and that's pp. That was actually one of the cheapest things I found. Going to the desert with a tour was out of reach even for our dreams.
Where did the rest of our money go?
In the 145 euro for equipment we included some clothes that we bought as well as 17 OMR (around 40 euro) that we spent on mattresses and sleeping bags. Buying those was actually cheaper than renting. The rest of the camping gear we borrowed from the hostel.
In the 144 euro for miscellaneous we included our one month visa for Oman (20 OMR each so around 95 euro together), car insurance and sim card that we bought to have mobile internet while camping (sim card + 1gb internet was just 2 OMR so around 5 euro).
How to get to Oman?
We came on a bus from Dubai and that was the cheapest option and costed only around 27 euro for both of us (not included in this budget). It took 7 hours and at the time when we used that option there were 3 buses per day and it was operated by a company called Mwasalat. There was also the same option going from Abu Dhabi.
How to rent a car in Oman?
We rented a car via Pepe Car which is available only to a few nationalities. That was the cheapest option really. We got a great, functional, medium sized car for a smashing price of 172 euro. To go with it we bought an insurance from an external company to cover the potential damages. We always did that one because it turns out cheaper than adding it to your rental option. It's also good idea to check renting over various days, in our case renting for 7 days was cheaper than 5…. Weird but true:)
For renting a car in Oman we just brought our European driving license. They didn't require an international one.
Our tips to save money in Oman
Airbnb is the best option for cheap but decent accommodation, there you might find "hostels" set up by private people as well as affordable rooms. Researching double rooms at Airbnb we noticed they were cheaper than most of the dorms available. Anyway cheap accommodation is pretty limited so….
Camp! You can camp almost everywhere and there are no campsites which makes it immediately cheaper, you only need to rent or buy the equipment. The downside is lack of public toilets and showers… The only option is a bucket and a quick shower in the sea… Just watch out so that the locals don't see your naked flesh. It's a Muslim country so they won't appreciate it.
Rent a car 🙂 public transportation is pretty bad and renting a car can be pretty cheap, not to mention how cheap the gasoline was! 🙂
P.S. Exchange rate used for the overall budget 1 OMR = 2.46 EURO
Coming from Oman Sri Lanka was a breath of fresh air to our pockets. Almost everything was cheap and for those who want to lower their standards even further and get cozy with rats it can be even cheaper 🙂
On Sri Lanka we spend a total of 1311 euro over 29 days. So that makes almost 23 euros per day per person.
So let´s break it down:)
Where did we go?
Starting from Colombo we travelled along the coast stopping in charming villages and towns down to Mirissa. After seeing whales we started going more north to enjoy some tea in Ella, the famous train from Ella to Kandy and finally the cultural triangle. For the last few days of our stay on Sri Lanka we chilled out on the coast close by Colombo.
How did we travel?
We wish we could say "safe" but honestly the buses in Sri Lanka were really scary especially along the south coast. Whenever we could we tried to take a train rather than the bus. But on the positive side the transportation of all kind was really cheap and offered really breathtaking views over tea plantations, rice fields, lakes, seaside and whatever you could imagine. Many times we saw elephants from buses and not only passing the temples.
For the famous train passing through tea plantation we paid 800 LKR (around 5 euro)... for both of us. And that was a 7 hour train so probably the most expensive that you can get. It was 3rd class but it was comfortable and we were sitting without a problem.
Buses are a bit more expensive, probably because you pay for the adrenaline shot that you get in there… So a short ride from Kandy to Dambulla costed us 200 LKR (1.2 euro) for us both.
Tuk tuks are obviously the most expensive option except for a private car with a driver of course. They require quite a bit of bargaining skills and patience. Within a city or just outside for a short ride we would pay maybe around 120 LKR (around 75 cents).
In Colombo and surrounding areas along the coast we used UBER which turned out to be cheaper than local tuk tuks. For that price we were expecting a Flintstone-like vehicle but to our surprise we were always picked up by a car.
Overall on transportation we spend a total of 77 euros.
Where did we stay?
Accommodation was the biggest part of our spending and cost us 557 euro. That said we slept in really few shabby places and we treated ourselves with nicer places to sleep twice. We even rented an apartment which was ridiculously cheap.
Only 4 nights we spent in dormitories not even because we were open to spend extra on private rooms but actually because private rooms were often cheaper than two beds in dorms. For 3000 LKR (around 19 euro) we already had a nice double room with a private bathroom in most cases. For just additional 1000 LKR we stayed in a charming, little cottage with a private terrace overlooking a green, lushy tea region. Rowinrich Cottages was definitely our favorite accommodation where we stayed just for 5 nights. We wanted to stay there forever 😀
Another treat was an Airbnb apartment in Mount Lavinia for 30 USD. It was worth every dollar of that price. We had our own kitchen where JD could cook his amazing curries, great, spacious living room, aircon in the bedroom and a stunning, huge terrace with plenty of trees and plants of many kinds.
What did we eat?
On food and eating out we spent a combined 514 euros. The prices of restaurants on Sri Lanka were surprisingly high. In some places especially along the coast we couldn't find anything that wouldn't cost us a day in a bathroom, for under 10 euros per plate. Thankfully in many spots we had a kitchen so we just cooked ourselves buying a lot of vegetables, seafood and occasionally meat. Whenever we cooked we were definitely not saving on ingredients of any kind and still it was mostly cheaper than eating out. The only delicious and really economic restaurant was Matey's hut in Ella where we ate every day. Everything there was prepared fresh with love and passion. Prices were very low and we were leaving happy, full and ready for any adventure for 1000-1500 LKR for both of us (6-9 euros).
Along the coast we went to a few hip restaurants and bars and generally for both of us we would pay around 2500-3000 LKR (16-19 euros).
How expensive are museums, tours etc?
On tourism we spend 147 euros. In general entrances to museums, temples and sights were cheap or free BUT in the cultural triangle the prices are just insane. For seeing Sigiriya Rock we paid 9000 LKR (56 euros) for both of us which is just a ridiculous price considering that you're only visiting ruins on top and bottom of a rock which don't resemble more than few walls…. Honestly we were not even impressed. Well maybe we were stunned by the crowds but that's it. It would have been a nice trip for 10 dollars but it's not worth the whole price we paid.
Polonnaruwa ruins which also belong to the cultural triangle cost us 7500 LKR (for both, 47 euros) so also overpriced in our opinion. But those were at least pretty extensive and included many ruins and temples. It was also not that crowded in the morning.
Whale watching tour was surprisingly cheap and we paid just 4000 LKR for the two of us. We were sharing a boat with probably around 30 Chinese people which at times was challenging. All of them were running around from one side of the boat to the other trying to get the best shot of the whales. The boat was swinging like crazy but no one seemed to care except for us.
Many other sights were pretty cheap and our favorite was a temple carved in a rock in Dambulla (free of charge).
Iran is one of those countries where you start off as a millionaire but your millions run out very fast:) And with so many zeros and unclear prices it can be quite a challenge to keep track of your budget. Somehow we managed and it turns out we spent a total of 1565 euros over 28 days of stay. So that makes it 28 euros per day per person.
Let's see where all the euros went 🙂
Where did we go?
Our journey through Iran started like many others in the capital- Tehran. Afterwards we continued south passing through Kashan, Isfahan, Shiraz, Kerman and many more until we ended our trip on the Qeshm Island in the Persian Gulf.
How did we travel?
With very low prices of petrol and unclear, inefficient public transport, taxis are quite a great mean of transportation in most of the cities. Obviously we always bargained fiercely but in final end a ride would cost just 1 maybe 2 euros depending on the distance. In Tehran except for taxis we used the metro which was even cheaper (2 cards plus many rides that we did cost us a bit above 2 euros). Metro also included a lot of no- mercy -pushing, huge crowds and quite little air…
Between the cities we used very comfortable and spacious buses. To give you an example a bus from Shiraz to Kerman was 800 000 rials for both of us so around 20 euros. For that price we not only enjoyed the stunning view of desert and mountains from our comfy chairs but we also got some snacks and juice to enjoy it even more 🙂
To get from Bandar Abbas to Qeshm island we took a very pleasant ferry that took around an hour and costed 140 000 rials for both of us (around 3.5 euros).
Transport all together came to 196 euros.
Where did we stay?
Accommodation turned out to be more expensive than we thought. Even in low season and bargaining we spend 565 euros so on average 20 euros. It might not seem that much but if you saw the quality of some of those places you would think otherwise. In places like Tehran or Isfahan there was almost no other choice then to go for the cheapest, the shabbiest hostels ever where toilet paper was not included or the only common space was a tent outside (with around 0 degrees). On the positive side everywhere except for Tehran we stayed in private rooms and many times they were as expensive as two beds in a dorm. For a couple that is great news in a country where no affection can be shown in public and where women have to follow a dress code even in common areas of most of the hotels. As finding accommodation online is quite difficult and finding out their prices is almost impossible we post a full list of the places we stayed in:
In 368 days we traveled through Argentina, Uruguay, Bolivia, Peru, Colombia and we paid short visits to Ecuador and Brazil. In total we spend of 24 938 euros for the two of us.
Can you do it cheaper? Yes, for sure. We met a guy who was only eating rice and sometimes for the variety leftovers from other people. We didn't do that. We also didn't drink water from fountains and we didn't sleep in parks. We did volunteer every now and then. You can always volunteer more. It's a reasonable budget of two people that like good food (mainly cooked ourselves during the travel), don't mind sleeping in dorms but sometimes get a double room and definitely don't go for drinks every other night. OK let's break it down then:)
Which country was the most expensive?
As you can see below Peru was the most expensive country. We spent 75 euros per day with the two of us. In total 5227 euros over 70 days. That's because we did a very expensive Salkantay trek and we went a bit crazy on very fancy dining and we bought a cheap laptop (around 200 euros). We also didn't do any volunteering. Honestly speaking I definitely feel Argentina was the most expensive country. We spend 65 euros per day for us two but we saved a lot by volunteering there for a month out of 99 days in the country. During the month on the farm, where we volunteered, we didn't spend anything as the food and bed and rats were all included:) Otherwise the budget per day would be much higher. While expenses in different parts of Peru are comparable, in Argentina they are really different. For amazing colorful mountains and delicious wine in the North we paid way less than for omnipresent ice and coldness in the South. In Patogonia for a bed in a dorm in low season (so in total winter) we paid around 18-20 euros while in the north for that price you can find a nice private room with private bathroom.
Which country was the cheapest?
Bolivia. No doubt about that. Food, local transport and hostels are ridiculously cheap! And fun. While Colombia or Uruguay can be compared to Europe, Bolivia is definitely the furthest we got from the western world. The typical Bolivian Cholitas, their outfits and their hats- incredible. And I still can't forget the dead baby lamas for good luck… On average per day we spend 45 euros so over 48 days "only" 2346 euros.
What were the budget breakers in South America?
Well definitely Patagonia in Argentina. It's one of the most beautiful things to see there but it's really expensive. We went there in low season and it was still quite pricey and the variety of food was just ridiculous. We went there mentally prepared to eat instant noodles and potatoes and that was already difficult to find. That I'm not going to mention that we bought the most expensive pack of pasta there for 5 euros (nothing fancy just pasta).
Another one would definitely be Machu Picchu in Peru. We spend 843 dollars with the two of us to do an organized Salkantay trek to get to Machu Picchu. You can definitely do it on your own but Machu Picchu is still really expensive. Especially if you want to get a train to get there and then a bus and then maybe sleep somewhere close…
We also didn't deny ourselves a paradise experience on the islands of San Andres and Providencia. We couldn't cook there so we had to eat out every day and even though it was really cheap (around 5 euros for a meal) but it's still not as cheap as something you cook yourself. We also didn't go there to chill on the beach and count the seals. We went diving. Even though a two tank dive is only around 45 euros it's still quite a lot of money for two people for more than one time.
One time we also decided to pamper ourselves with renting an apartment. We wanted to spend Christmas in a flat not in a dorm and we didn't want to share a kitchen or bathroom. As a matter of fact, we didn't even have to share a bathroom with each other.
OK, so on what did we spend all that money?
Accommodation was the most expensive part. We spend 6334 euros. We slept in many places. Countless dorms, some private rooms, sometimes a tent and a few times even a hammock which we definitely don't recommend. A few times we went crazy on nice private rooms like in Minca for a room with a terrace and a nice view or Christmas when we rented a whole apartment for just the two of us. If we only slept in dorms we could probably cut the budget by 2000 euros.
To get from one place to another we spend 6212 euros. That includes also our flight to Buenos Aires from Paris (780 euros for both of us) and our flight from Colombia to Barcelona (1059 euros for the both of us). In South America our main mean of transport were local buses which were cheap everywhere except for Argentina. There for a 24 hour bus ride we paid around 130 euros (imagine in Peru an overnight bus was around 40 euros). And you need a 24 hour bus to get anywhere in this huge country. Colombia was the only country where we decided to fly around a bit since it was sometimes even cheaper than a bus!! God bless their Viva Colombia (Colombian Ryanair).
Food is not far behind. We ate for 6180 euros. Most of the times we cooked ourselves (really around 85%). But when we ate out we didn't go to the cheapest places. We preferred to spend a bit extra to get good quality food. We also went for a few dates and a few drinks. Nothing too crazy. Well maybe except the 2 times we went for super fancy dining in Lima🙂
On tours, museums, fees and all things that you could call tourism we spend 4381 euros. Definitely a big part of it was our Salkantay trek on which we spend 843 euros and an 8-day kayaking tour through the amazon for 562 euros.
Jandirk took also an intensive Spanish course for a month, 4 hours a day which cost us 363 euros.
448 of our precious euros went for peeing in public toilets, medicine, books and other little things that out of the sudden became big money :O
On equipment we spent 966 euros that includes our new laptop, clothes that we bought along the way and other little things.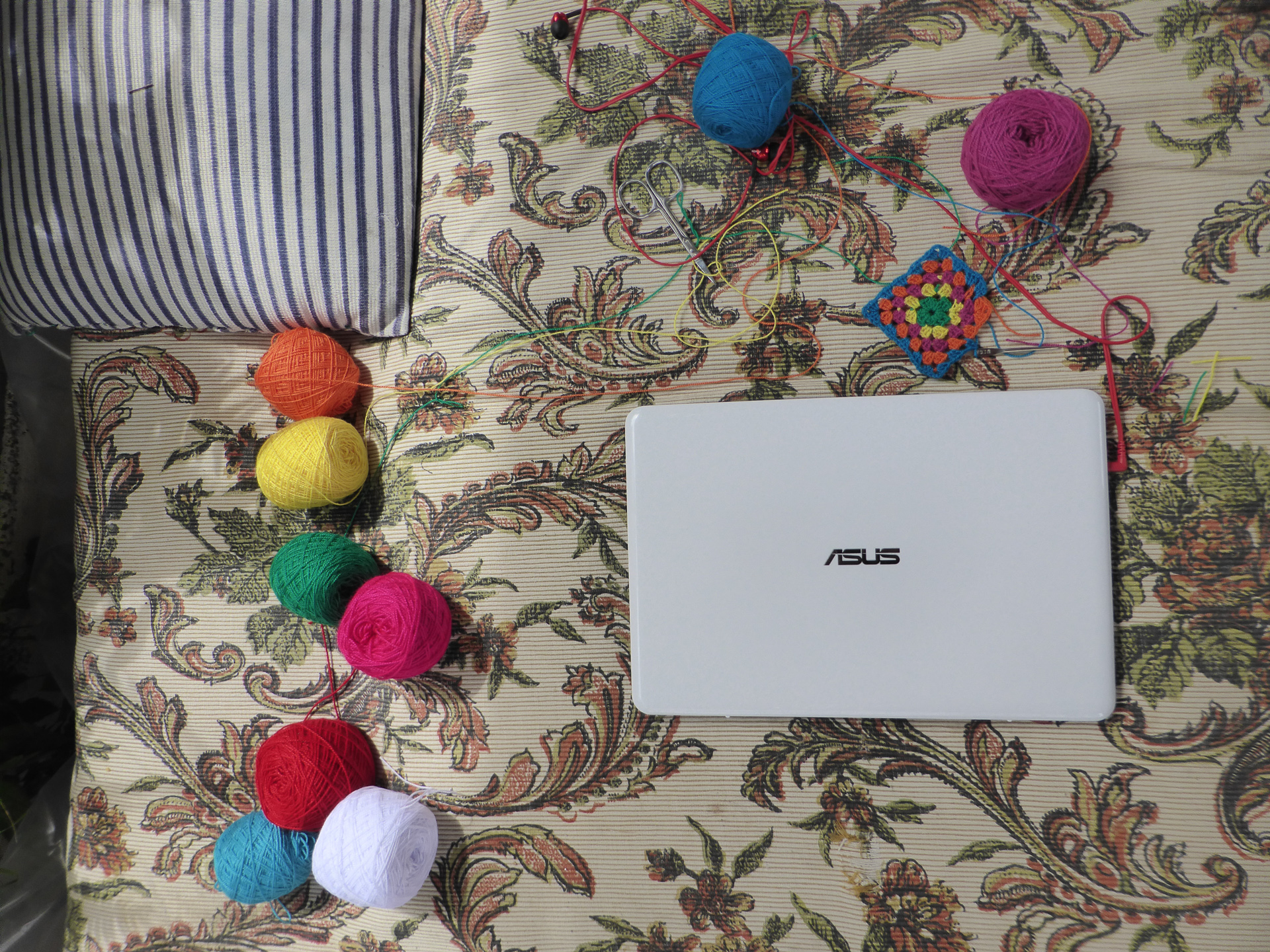 Our tips to travel cheaply.
Keep track of every peso, euro, dollar spend. It's the most important thing! For all of our expenses we have a spreadsheet to keep track and understand on what we spend our money and why. It helped us to be conscious with our spendings
Sleep in dorms, always choose a hostel that has a kitchen! Those two saved us a lot of money. Even in cheap Bolivia eating out is more expensive than cooking yourself
Volunteer when you can! It's an awesome way to meet the locals and their culture and save a lot of money on accommodation and maybe even food. We volunteered

chasing chickens

on a farm in Argentina (

WWOOF

) and in hostels in

Colombia

and

Panama

(via

Workaway

)
When you go to Argentina try to take as much US dollars as you can. You save a lot of money exchanging dollars on the streets for the blue dollar rate. And it's not as dodgy a business as you would think. No one will slice your throat when you do it. At least we didn't have any problems... ever
Do your research! Check how much things should cost, ask the locals! We always checked how much a bed should be or a taxi or anything. Otherwise people will let their imagination loose with their prices and you won't even know
Try to use local transport!
Try to travel off season
If you speak Spanish try to use it to be a translator for tours! It's definitely a big save up when you can do tours for free because you can translate. I did that during the

Lost City trek
On our blog you can also find detailed budgets from each country:) if you still have any questions we will happily answer them:)